Did you know that solar energy is the fastest growing source of renewable energy in the U.S.? It's true, and there's good reason for that — our communities need it! In this blog, we've pulled together some fantastic solar energy predictions for 2016 from various solar energy experts.
The Solar Energy Industries Association (SEIA), for example, put out a forecast that predicts the solar market will grow 25 to 50 percent in all U.S. sectors by 2016. That's great news, right? Check out their video on how solar has grown over the last decade in the U.S.:
In 2016, the U.S. Energy Information Administration (EIA) expects continued growth in utility-scale solar power generation, which is projected to average 86 gigawatthours per day (GWh/d) next year: "Because the growth is from a small base, utility-scale solar power averages only 0.8% of total U.S. electricity generation in 2016. Although solar growth has historically been concentrated in customer-sited distributed generation installations (rooftop panels), EIA expects utility-scale solar capacity will increase by 90% between the end of 2014 and the end of 2016, with more than half of this new capacity being built in California. Other leading states include North Carolina, Nevada, Texas, and Utah, which, combined with California, account for more than 90% of the projected utility-scale capacity additions for 2015 and 2016. According to current law, projects coming online after the end of 2016 will see a federal investment tax credit of 10%, below the 30% investment tax credit available for projects that come online before the end of 2016. This impending decline in the tax credit provides a strong incentive for projects to enter service before the end of 2016."
Curious about how to jump on the utility solar bandwagon? Take advantage of utility solar programs in Georgia before the end of 2016 with Solar CrowdSource's Community Solar program.
SEIA estimates that 40 GW of solar will be installed across America by the end of 2016. The first quarter of data from SEIA this year shows that the U.S. installed 1,306 MWdc of solar photovoltaic, making it the sixth consecutive quarter in which the U.S. added more than 1 GWdc of solar installations. And collectively, over 51 percent of all new electric generating capacity came from solar in the first quarter.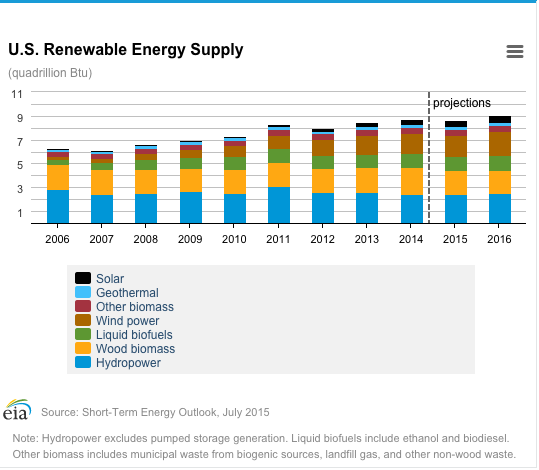 According to Renew Economy, solar costs around the world will fall 40 percent in the next two years: "Solar, and other technologies such as wind power, are no longer more expensive than traditional fossil fuels in many parts of the world. Indeed, they are cheaper."
Adding to this report, Deutsche Bank says, "Cost reduction on the installation side will come primarily from scale benefits, and could fall from $0.65/w to $0.45/w. In fact, solar installation jobs are likely to increase substantially to keep pace with demand, but more experienced installers using better tools and techniques on larger systems are likely to more than offset any wage growth through efficiency gains."
So let's look forward to 2016. The federal tax credit for solar is about to run out at the end of next year, unless it's renewed (fingers crossed—many entities are pushing for this). If the tax credit ends, though, is that going to change things for the solar energy market? It may or may not since businesses and homeowners are grasping hold of this alternative energy for all of its benefits, including it being a socially responsible, green investment.
Just in case the federal tax credit is not renewed, however, you should take advantage of the federal tax credit (big savings) NOW and sign up with one of Solar CrowdSource's solar campaign programs that make reaping the benefits of solar energy even more attainable.