Residential: High Quality Solar Components and Great Pricing = Value

One of the great things about running a Solarize program is the anticipation before the bids come in. Waiting to see what we get during the 30 day public notice request for proposal period can seem like an eternity. We knew the bids would come from highly reputable firms that regularly use high quality components. We also knew that the winning bid would be largely based on quality of components and price because that's what the residents of Decatur and DeKalb told us they wanted most at the solar town hall meeting back in July. Solarize Decatur-DeKalb was was well worth the wait!
What do we mean by high quality components? In the solar world, high quality components means aesthetically pleasing and high efficiency solar panels, high tech inverters able to track each panel individually, user friendly monitoring on smart phone, and strong warranties. Similar to other household appliances, quality usually has a direct correlation with price. The higher quality solar components, the higher the price. But what we got with Solarize Decatur-DeKalb defied all our expectations. Not only did we get very high quality components but at the lowest price we've ever seen before in Georgia together with a couple bonus items that blew us away!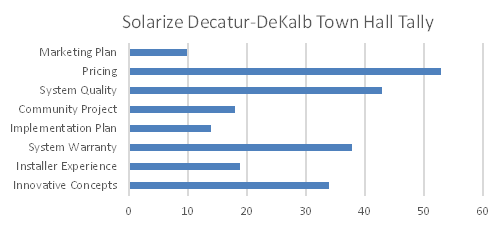 We asked town hall participants to rank the attribute most important
to them in choosing a solar contractor for the program.
Residential
Creative Solar USA won the bid for residential and we are impressed with the value they are bringing to the program. For those of us on the selection committee, we took the information provided from local residents at the town hall meeting and framed our decision on what we would want for solar on our home. Now, lets get to it already...
Panels
With solar on rooftops, space can sometimes be at a premium so using high efficiency panels is important. You can get more solar in less space with higher efficiency panels. You also want aesthetically attractive panels that don't stick out like a sore thumb. Creative Solar USA hit this one out of the park! The Suniva ARTisun 60 cell Module is a highly efficient and very attractive panel. The deep black cells are monocrystalline which means they are made from a single, more pure silicon material that converts light into energy more efficiently than polycrystalline panels. It comes with a black frame which helps make these panels some of the most aesthetically pleasing panels on the market.
BONUS: Suniva is the leading US-born, US-operated crystalline silicon cell and module manufacturer, spun out of Georgia Tech's University Center of Excellence in Photovoltaics; one of only two such research centers in the U.S. Suniva is headquartered right here in Georgia and these panels were made in Suniva's state of the art manufacturing facility located in Norcross. Solarize Decatur-DeKalb is proud to support American made products that generate local jobs and support the local economy.

Inverters
After the sunlight is converted into direct current (DC) electricity, it then goes to a device that converts the DC energy to AC (alternating current) so it is compatible with our homes, devices, and electrical grid. An inverter is the device that does just that. For homes, especially in Georgia, solar shares a rooftop with dormers, chimneys, vents, and nearby trees which all can potentially cast a shadow on the panels. It is common to see residential solar installations come with just one "string" inverter. With a string inverter, all the panels are connected to just that one inverter. So if just one of the panels is shaded, then all the panels are affected and the whole system will generate less energy until the shade goes away. What's the answer to partly shaded rooftops? Microinverters! Microinverters are much smaller devices installed on the back of each panel. This allows each panel to act as its own little power generator. If shade falls on one panel, the rest of the panels keep generating electricity at maximum efficiency.
Creative Solar USA knocked this one out of the park again. In choosing Enphase M-215 Microinverters, Solarize Decatur-DeKalb participants have more flexibility as to where and how they install panels. Enphase Microinverters get more power from the same solar panels. This means greater savings for you and greater environmental impact.
BONUS: While most all inverters come with some kind of monitoring capability, Creative Solar USA is pushing the envelope to include the Enphase Envoy-S™. This communications gateway delivers solar production and energy consumption data to the Enphase Enlighten™ monitoring software for comprehensive, remote maintenance and management of the solar system.

Not only can you monitor the performance of each panel individually but now you can see your whole home energy consumption at the same time! Click here to learn more about how the Enphase monitoring system can work for your home and watch the video to see it in action!
Note: Batteries are in addition to the standard Solarize Decatur-DeKalb tiered pricing schedule.
Value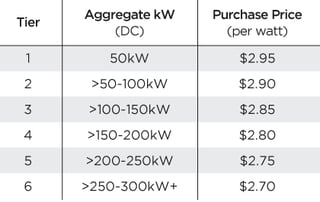 The Suniva black frame monocrystalline panels together with the Enphase Microinverter and monitoring system is arguably the most efficient residential system available today. Outside of a Solarize program, this system would easily cost $3.50-$3.75/watt. But Creative Solar USA's tiered pricing schedule won the day starting at $2.95/watt with more savings possible. The more Decatur and DeKalb Co residents that participate in the program, the bigger the savings. For example, if we reach tier VI ($2.70/watt), residents can save 25-30% on the cost of solar.
BONUS: In addition to the 25 year warranties for the panels and inverters, Creative Solar USA installations come with a 5-year workmanship warranty, a cut local above industry standards.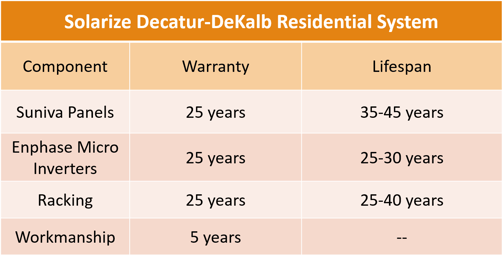 Solarize Decatur-DeKalb is proud to offer a very high quality system for the lowest price we've seen available in Georgia. Creative Solar USA did an outstanding job delivering a world class system and tremendous value the community can be proud of.
---
Interested in going solar? Want to save money and have the support of experts in installing the right system for you? Working together, we can make Decatur and DeKalb County a leader in solar energy.
Solarize Decatur-DeKalb is a community-based solar PV bulk-purchasing campaign that makes solar more affordable and accessible for the citizens of Decatur and DeKalb County -- the more that participate, the greater the savings! Residents, businesses, local governments, and nonprofits are encouraged to sign-up for a free solar evaluation between September 1 and December 31st. Visit www.solarizedecatur-dekalb.com to sign up and more details.