Dunwoody City Council Recognizes Solarize Dunwoody
Declares January 31st, the last sign-up day in the program, as Solarize Dunwoody Day
Dunwoody, GA—At their Jan. 8th Council Meeting the Dunwoody City Council voted unanimously to name January 31st, 2018 as Solarize Dunwoody day and applauded the Solarize Dunwoody Coalition which includes local residents, a member of the Dunwoody Sustainability Committee, the Dunwoody Homeowners Association, Environment Georgia, Georgia Interfaith Power and Light, Solar Crowdsource and the solar installer Hannah Solar for their work to educate residents and businesses about solar.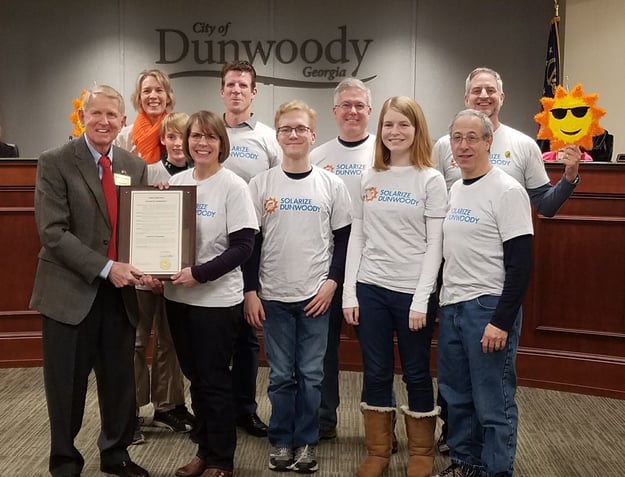 "This is a really nice way to end this phase of the program," said Jason Metzger a local resident and member of the Dunwoody Sustainability Committee who was on hand to accept the proclamation. "As the proclamation says 'solar energy is good for the environment, contributes to a reduction in greenhouse gas emissions, and promotes energy independence'—well, Solarize Dunwoody has already doubled the number of solar homes in and around our city so we are incredibly proud of what we've been able to do for our small slice of the planet."
Solarize Dunwoody launched on September 1st and is a program designed to make it easier and more affordable for community members to go solar. The more people who sign contracts to install solar the cheaper the price for all involved in the program. Pricing drops as higher milestones or 'tiers' are reached. Currently Solarize Dunwoody is in tier three out of a total of six. Twenty homes for a total of nearly 130 kW of solar have committed. Organizers estimate that there were nine solar homes in Dunwoody proper before the program launched.
"Solarize Dunwoody participants have already installed more batteries than any other Solarize program Environment Georgia has been a part of," said Jennette Gayer the Executive Director of Environment Georgia. "It is inspiring to see a community take their energy future into their own hands and think globally while acting locally."
January 31st marks the end of the sign-up phase of the program when people can sign-up for a free solar evaluation from Solarize Dunwoody's chosen installer, Hannah Solar but, it does not mark the end of the program. People who have signed-up at www.solarizedunwoody.com will have 2 more months to decide if solar is right for them and sign a contract.
"My family installed solar through a Solarize program and it has been great to see the very real savings come rolling in, even on a cold winter day," said Tina Wilkinson, UMC Earthkeeper and one of the leaders of Solarize Dunwoody. "I hope we'll see a surge of sign-ups on or before Solarize Dunwoody Day and then think we'll see even more people actually go solar."
Solarize Dunwoody organizers and participants will be gathering to celebrate on January 31st at Dunwoody Tavern 6-8PM. Any residents interested in solar are welcome to attend.
Solarize Dunwoody is a coalition effort designed to increase solar installs in Dunwoody and surrounding neighborhoods. Learn more at www.solarizedunwoody.com, #sunwoody
To share your experience with Solarize Dunwoody, email us at admin@solarizedunwoody.com.