What is Solarize Dunwoody anyway?
Solarize Dunwoody is a community-based, competitively bid, solar PV bulk-purchasing program that makes going solar easier and more affordable than going it alone.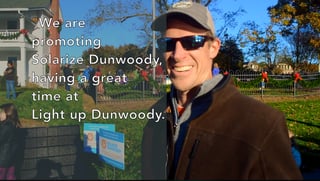 Community-based: Solarize Dunwoody is a coalition of local area nonprofits and for profits devoted to bring more solar to Dunwoody and neighboring communities. Coalition members include the Dunwoody Homeowners Association, Dunwoody Sustainability Committee, UMC Earth Keepers, Environment Georgia, Georgia Interfaith Power & Light, and Solar Crowdsource as well as a few volunteer citizens of the Dunwoody community. We hold several free events throughout the duration of the campaign to educate the public about the benefits of solar and the program.
Competitive bid: The coalition conducted a competitive bid process to choose a solar installer. The criteria used to choose the installer includes things like product quality, pricing, warranty, installer experience, etc. The top criteria for Solarize Dunwoody were pricing & financing, system quality, and system warranty. The coalition chose Hannah Energy because they offered the highest quality materials for the lowest price.
Easier: most people don't have time to meet with 2-3 solar installers and don't have the knowledge to evaluate their products and proposals, including pricing. The selected installer commits to provide a free evaluation for everyone who signs up, and if the site is viable for solar, the installer will provide a proposal. The materials and pricing in the proposal is pre-negotiated and public, so that the buyer doesn't have to haggle.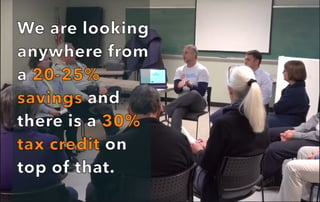 More affordable: Currently, at Tier 3 pricing ($2.80/watt), participants are already saving 15% off the price of a system outside of this program using comparable materials. The pricing is tiered so that the more people who sign contracts, the lower the price goes. If you are an early adopter and the pricing goes down after you've paid for your system, you'll receive a refund to bring your price per watt to the same level as everyone else. In the end, everyone pays the same price which encourages people to spread the word about the program. If we reach Tier 6 pricing, everyone will save 20%.
If you have any questions or would like more information, please call us at 770-288-0440 or email us at admin@solarizedunwoody.com.