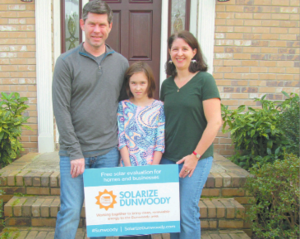 Source: Dunwoody Crier

Posted:
Tuesday, November 21, 2017
With its plentiful sunlight, Georgia is the ideal place for solar power. But until recently, going solar – or solarizing – was beyond the budget of most people. Thanks to Solarize Georgia, affordable solar power has come to Dunwoody. And Tricia and Jason Webster are the first homeowners to go solar through Solarize Dunwoody.
"Actually, we were the fourth to sign up," said Tricia, "but the first to receive our system."
"We had been researching solar for a long time," said Jason. "It's clean, silent and renewable. After a friend with solar in Florida posted his energy bill on Facebook, I was hooked."
Switching to solar is all about the equipment. In fact, if a home requires no repairs, the equipment is a homeowner's only cost. Companies that sell the equipment also install it.
Not knowing anything about Solarizing Georgia, which limits each member community to one installer, Jason and Tricia had initially contacted a solar installer on their own. Though the firm had done Solarize Decatur, they hadn't won the bid for Solarize Dunwoody, but let the Websters know that Solarize Georgia was coming to Dunwoody.
Solarize Georgia uses crowd sourcing and bulk purchasing to make solar power more affordable throughout Georgia one community at a time. Athens and Decatur have already solarized. Now it's Dunwoody's turn.
Since the only investment a homeowner makes to have a solar system is the equipment, Solarize Dunwoody helps homeowners in Dunwoody save on the cost of solar based on the numbers of members — the more that participate, the greater the savings.
The Websters' system currently consists of 18 half-inch solar panels each measuring about 5 feet by 3 feet, not much bigger than some TV screens, installed on their rear roof, plus 18 micro-inverters, one per panel because each panel produces a different amount of energy, installed next to their basement breaker panel and connected to the Internet. Some systems also include a storage unit, which stores excess electricity for use during the night.
Contrary to popular belief, homeowners don't make money from their solar panels, and they will always have a Georgia Power account, even if they're creating all of their own power.
During the day, the panels turn the sunlight into electricity that powers the house. As the day progresses, Georgia Power credits the Websters for their unused kilowatt hours and applies them back to their account to reduce their monthly bill. Without a storage unit to store their excess kilowatts, their house runs on current from Georgia Power at night.
"We're saving to buy a storage unit," said Tricia.
"We'll never receive cash from Georgia Power," said Jason. "Our ultimate goal is to have a zero power bill."
Even with their bulk-purchase savings, the cost of Jason and Tricia's system was more than $16,000, but it included all equipment and permits.
"Our original quote was for more panels, just over $20,000," said Jason. "Through Solarize Dunwoody, we saved about $4,000."
"Hannah Energy [the official Solarize Dunwoody installer] was great," said Tricia. "After doing a thorough assessment, they determined we only needed 16 panels to power our house."
"They won't sell you more than you need," said Jason.
According to the agreement with Solarize Dunwoody, Hannah Energy's pricing is tiered, based on how many people have signed up. As more homeowners join, the cost of a system will come down. Once they have installed a system, their involvement with a homeowner is over.
Solarize Dunwoody is a limited-time "campaign," which ends Jan. 31, 2018. Until its expiration, purchasers will receive rebates from Hannah Energy as more homeowners join and purchase systems.
The Websters say nothing else in their 1970s-home has changed since they switched to solar. Their furnace and water heater are still powered by natural gas. They haven't yet received their first power bill since going solar, but their financial return on investment will be small.
So, is the investment worth it?
"The only thing the previous owners had done for energy efficiency was put a layer of insulation in the attic. The windows were single panel. Let's say it was breezy in the wintertime," said Jason. "We're doing our best to turn it green."
"Going solar is for the environment," said Tricia. "I disagree with the continuation of the nuclear power plant at Vogtle."
"Vogtle will be obsolete before it's finished," said Jason. "Plus, I really like seeing the meeting go the other way."
Other homeowners in Dunwoody apparently agree with them. Since they received their solar system last month, 107 other Dunwoody homeowners have signed up.
For information on Solarize Dunwoody, go to solarcrowdsource.com before the expiration date of Jan. 31.