You've heard about solar, you may know that the cost of solar has come down 70% since 2010 and that there is a 30% tax credit available to help reduce the upfront cost. And you may even be lucky enough to have a Solarize program in your community that can help reduce the costs another 20%.
But what you may not have heard is that now is the best time to go solar. That's right, now is the time. Policy and market forces are at play that make 2018 and 2019 the sweet spot to get the most bang for your buck and we've got three charts that explain why so you don't miss out. There are three main drivers that affect the cost of solar and value of a solar investment that everyone should know:
Driver # 1: Tax Credit Phasing Out
Since 2006, homeowners and business owners are eligible for a 30% tax credit to help reduce the upfront cost of solar. This tax credit applies to the entire cost of the system including components (panels, inverters, racking/mounting structure), permitting, labor, etc. The tax credit also applies to energy storage systems when purchased and installed at the same time of purchasing and installing the solar system. Set to expire in 2015, Congress extended the tax credit through 2021 but it starts to phase after 2019.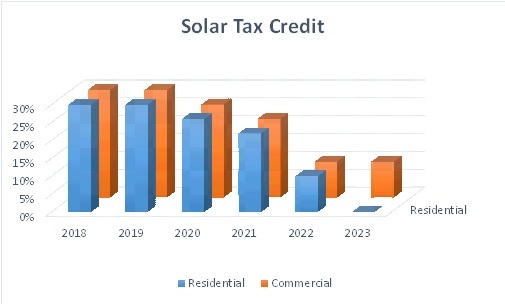 As you can see in the chart above, the tax credit will phase out entirely for homeowners in 2023 and level out to 10% for businesses. So if you are considering going solar anytime in the next few years, and you want to maximize the use of the tax credit to reduce the upfront cost and your tax liability, you will want to purchase and install sometime before the end of 2019 to get the full 30% tax credit.
Driver #2: Tariffs on Imported Solar Modules
You may have heard about the recent tariff imposed on imported solar modules by the Trump administration. Without getting into "why" a tariff was placed on solar modules, let's just look at what the tariff is and how it can impact your decision to invest in solar.
First, what are the tariffs? Starting February 9, 2018, a 30% tariff was levied against the import of all solar panels regardless of the country of origin. It then goes down 5% per year for the next three years.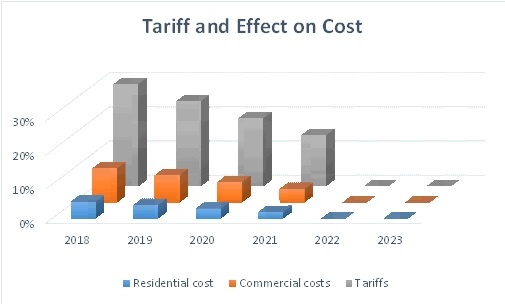 A 30% tariff on solar modules does not equal the 30% tax credit. The benefits of the tax credit far outweigh the harm imposed by the tariff. While a 30% tariff may sound like a huge hit to the solar industry, when translated to the overall cost of the system, residential systems will increase by about 5% and commercial systems will increase by 10%. This is because solar modules make up a lower percentage of the overall cost of residential systems and a slightly higher overall cost to commercial systems.
Also remember the 30% tax credit is still in effect for 2018 and 2019 which will help mitigate the higher cost tariffs may impose. Because the overall effect of tariffs will only result in 5-10% higher cost, it's still more advantageous to invest in solar in 2018 and 2019, before the tax credit starts to phase out.
Driver #3: Rising Electricity Rates
In 2016, the Georgia Public Service Commission and Georgia Power agreed to freeze rates until the next rate case in 2019. A lot has happened since then. Georgia Power purchased Atlanta Gas & Light for $12 billion and the costs to build Plant Vogtle 3 and 4 have soared to a total of $25+ billion. These two events have not been factored into rates yet but all that's about to change in 2019.
Before the freeze on rates, according to the last 21 years of data available on the PSC website, Georgia Power customers experienced an average rate increase of 2.5% per year. If we are to assume that amount of rate increase will resume in 2019, then rates will increase 12.5% over the next 6 years.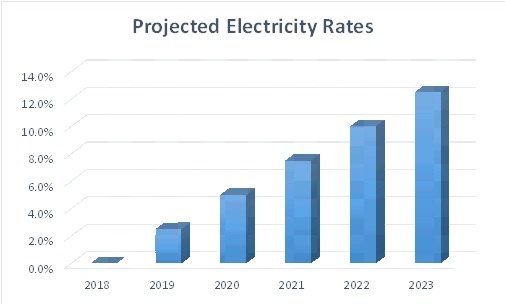 While rates are projected to continue to go up, solar does not. Because there is no fuel cost (the sun is free) and very low operating and maintenance cost, solar works perfectly as a hedge against increasing utility rates. Most solar panels come with a 25-year production warranty so you can count on solar as a reliable and enduring source of energy. Using solar as a hedge in the summer months goes even further to reduce high peak demand charges. Solar generates more energy in the summer months when energy demand spikes and the cost of energy go up. Solar generates more energy when energy is the most expensive.
So what does all this add up to? The tax credit will soon start to phase out, the tariff's will only result in a marginal increase of the cost, and rates are projected to once again resume their historical increase of at least 2.5% annually. All this makes 2018 and 2019 the best time to go solar. Now is the best time to use your property to generate your own electricity and take control your energy with clean, renewable energy. Visit solarcrowdsource.com for a Solarize program near you and learn more about the benefits of solar.
Update August 31, 2018