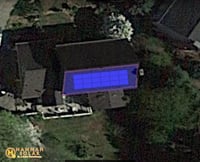 Many of you have already received a free solar evaluation from Hannah Energy but all the others (you know who you are :)), here's what you can expect. Hannah Energy's solar evaluations includes three main components: energy analysis, site/shade analysis, and financial analysis.
See Sample Solar Evaluation | HelioScope and Simulation
Starting with your electricity bill information, Hannah can determine how much energy you use and how much it costs. Then they will right-size a system specific to your energy needs and lifestyle.
Next, with satellite imagery and site visit, Hannah will lay out the proposed solar array to scale on the sunniest part of your home for optimum efficiency. Hannah uses the low profile black frame, black cell panels pictured above. Now you can visualize what solar looks like on your roof.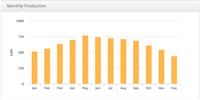 Finally, Hannah Energy provides a detailed financial analysis so you can make an informed decision. The financial analysis is easy to understand but gives a lot of detail including cost, tax incentives, itemization of materials and warranties, monthly production schedule, and a 25-year payback schedule so you can see exactly when to expect your system to pay itself off.
Of course all of this is free with no obligation. The goal of the Solarize Dunwoody program is to remove barriers of going solar and educate participants of the benefits of solar. A Hannah Energy representative will meet with you and answer any questions you have. This way, participants can make a well-informed decision before making the transition to renewable energy and energy independence!